Repairing and cleaning your Old NES game console.

I was a computer tech in the 70's and 80's and I have fixed
alot of computers this way.When computers where big main
frames with 1000's of connections just like the Nintendo NES game has.

If you own or play games on an original Nintendo Entertainment System (NES)
You will someday have to clean it or replace the game connector and games.
This guide may save you the cost of a new connector by cleaning your contacts.
It also shows how to replace your NES console game connector and
how to clean Nintendo game cartridges.
Cleaning the NES Nintendo game connector and game usually fixes the problem.


Before you take apart your console



Start by cleaning your game cartridges.  
Most NES game problems are almost always dirty NES cartridges.
Use a wide pink school pencil eraser and lightly rub the game contacts with it.
Blow or brush away any eraser crumbs and try the game.Its that simple.

If this fails it's time to look at the Nintendo console connector.
You may save yourself the trouble of taking apart your NES system
by taping a cut eraser to the end of a 12 inch plastic ruler.
This way you can reach the connector through the game slot
without taking it apart.
Cut the eraser to the same thickness as the game cartridge contacts.
See the pictures below on cleaning the Old Nintendo NES contacts.

Taking apart your Old Nintendo NES to replace connectors and clean it.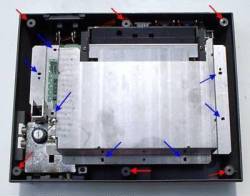 Turn your Nintendo NES console upside down
and remove 6 screws
marked with RED arrows.
Open it and remove the 7 screws
marked with blue arrows
Now you can remove the tin shield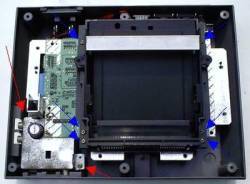 Now remove the 6 game slot screws
marked with blue arrows.
And the last 2 Nintendo mother board assembly
screws marked in red.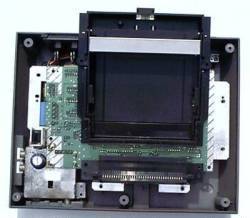 Gently lift the whole assembly enough to
slide the game slot out.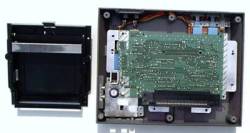 NES game slot completely removed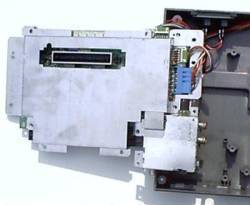 Turn the NES mother board assembly
upside down to get access
to the wire connectors
Mark the game controller wires
with a marker so you don't mix them up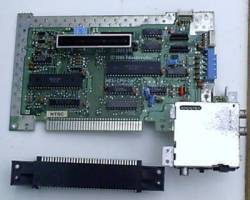 Once the NES mother board is completely
out and the tin shields are removed
the game connector just unplugs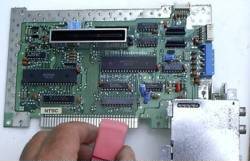 Even if you are putting in
a brand new Nintendo connector clean
the board contacts.
If you bought a new NES connector
( They are available on eBay )
Just plug it on and reverse
the process to assemble your
Nintendo NES.If not clean
your old one as follows.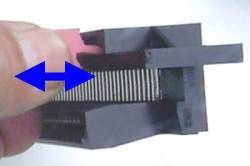 Slice an eraser with a utility knife
about the same thickness as the game
cartridge contacts.Use a new sharp
blade and watch your fingers please.
It should slide in without forcing it
the contacts are springs of a sort
so they will give a little.
You don't want to bend them,cut
down the eraser more if it is real tight.
If your not mechanically inclined
buy a connector its not worth cutting yourself.
They sell for under ten dollars on eBay.
Blow away any eraser crumbs
and reassemble your NES.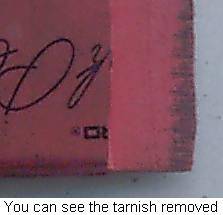 Hope this is helpful HAPPY GAMING !